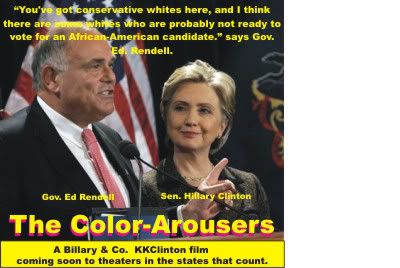 Dear AfroSpear Kinfolk:
As the
AfroSpear's
Field Negro blog
reports today, Clinton surrogate Gov. Ed Rendell of Pennsylvania is out telling the American people that,
color-aroused
that their voting ideation, emotion and behavior will prevent them from voting for Barack Obama simply on the basis of his color? Hillary and Bill Clinton and Gov. Rendell have to hope so, because they've made this premise the center of their campaign strategy against Obama.
If it is not true that Americans are still extremely color-aroused, then Hillary cannot become president of the United States based on this strategy. So, Billary KKClinton & Co will be criss-crossing the United States over the next two months, reminding voters that Barack Obama is Black and that his Blackness is supposed to the central fact that governs voters' ideation, emotion and voting behavior, as associated with skin color.
The American Journal of Color-Arousal (AMJCA), an AfroSpear blog, offers new analytical tools for understanding color arousal, as well as new linguistic concepts for speaking and communicating to others effectively about the science of color aroused ideation, emotion and behavior studies.
As editor of the American Journal of Color Arousal, it is my opinion that Barack Obama's success at the polls demonstrates that Americans have made significant progress at detaching voting behavior from skin color associated ideation, emotion and behavior. No responsible political official would base a an entire electoral campaign on the hope that extreme color-aroused illness, with its symptomatic color-determined voting patterns, would still be prevalent and determinant when voters go the the polls.
Politicians must always seek to alleviate color-aroused illness in those who still suffer from it, rather than exacerbate the illness for political purposes.
Francis L. Holland, Esq.
Editor,
The American Journal of Color Arousal (AMJCA)
55 (73) 3288-1716