Does this Ad Imply that the GWU Political Management Program
is Only or Mostly for White Men?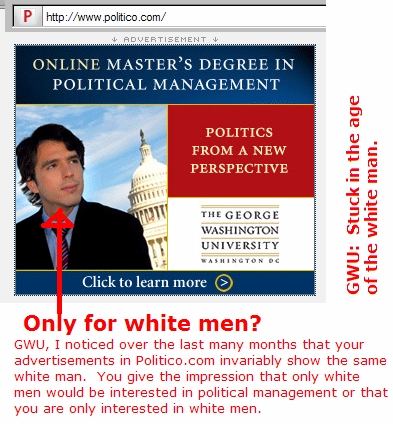 I am a Black man, a lawyer, have been involved in politics all of my life, and I read Politico.com. I have noticed that your advertisement for your Online Masters Degree in
Political Management
invariably features the same lone white man, presumably as an example of the student for whom you think your program is intended, interesting and appropriate.


Perhaps you haven't noticed, but the
President of the United States
is a Black man, we have a female secretary of state and a female leading the US House of Representatives. The age of the lone white man as the symbol of political power is over.

So, what's the harm in showing a lone white man in your advertisement over a period of months? You give the impression to women (51% of the US population), and Blacks and Latinos (a combined 25% of the US population) that you are not interested in our business.

You also freeze us out of the income we might receive as models in your advertisements.

And, perhaps worst of all, you perpetuate the white male supremacy paradigm and the myth of the white male super hero in which white men are thought to be the only demographic group capable of providing leadership and strength. Because the world is changing rapidly, your advertisement shows that you are not keeping up.

Please note that this is a criticism of this particular advertisement and not of your diversity accomplishment in general, of which I am not aware. Please consider making this advertisement more representative of all of the people available and determined to lead America in the 21st Century.

Sincerely,


Atty. Francis L. Holland
* * * * * *
From: Evelyn Liougas
Email: eliougas@email.embanet.com
Subject: In response to your email - GW advertisement
To: "francislholland@yahoo.com"
Date: Wednesday, June 24, 2009, 11:53 AM
Dear Mr. Holland,
I received your email communication (included below). My name is Evelyn Liougas and I am the Associate Director of Marketing for the online GW
Political Management program
. We appreciate receiving your email and are always interested in hearing from our audience.
I wanted to respond and provide some background on the ad and our choice of imagery. The man in the banner ad is in fact a graduate of the program and not a stock photo (although it may look like one). We have only a few images of graduates (3 specifically), and try to alternate among them. The others are a white and black woman - see attached. Each ad is placed in a controlled test and then measured in terms of response. We have tested all three images and based on the results have found that the white male image seems to resonate the strongest with the audience. As a result, we have tended to use this ad more often than the others. However, we do use all three ads on a rotating basis.
By no means is this ad intended to exclude anyone but is simply a
marketing strategy
to illicit the best possible response and is certainly not suggesting that only a white male could succeed in this program or in a leadership role.
On a separate but related note, I also handle the marketing for GW's
Public Relations program
and the image on that banner ad is that of a black man (see attached). This banner performs best among all the others and is used most frequently.
I hope this helps clarify our use of imagery and dispels any misconceptions you may have had about why we have used this image in our advertising.
Should you wish to discuss this further, please feel free to contact me.
Sincerely,
Evelyn Liougas
Associate Director, Marketing
Tel:
647.722.6641, ext. 3242
Fax:
1.866.594.7523
Email:
eliougas@email.embanet.com
* * * * *
From: Francis L. Holland [mailto:francislholland@yahoo.com]
Sent: Wednesday, June 24, 2009 2:36 PM
To: Evelyn Liougas, Email: eliougas@email.embanet.com
Subject: Re: In response to your email - GW advertisement
Dear Ms. Liougas:
I don't recollect seeing the photos of the white woman and Black woman and these photos did not come through with your email. Please send them to me again.
I would be very interested to review the statistics about the number of days each of the ads was up; the number of people who responded to the ads; and the demographics of those who responded to each of the ads.
Having posted my letter to you at my blog, I believe it is only fair and educational that I try to post information from GWU concerning the background of the policy to prefentially use the advertisement that features a white man.
Is
Politico.com
the only publication where these ads have been placed, with the white man, the white woman and the Black woman, or have they been placed in other publications as well? Have you also tried placing advertisements that include students of various skin color and genders?
Francis
* * * * *
Message contains attachments
Hi Francis,
Have you only seen the ads on Politico? We have used the banner you saw for a while on that site since, as I said, it has performed best. I have attached the pictures.
We do not share response rates, and other stats with external users so I am not privy to relaying that information.
Other places where we have placed the ad, which you may have seen, include Human Events, CNN/Politics, World Magazine to name a few.
Feel free to post my response on your blog, and contact me should you have additional questions or comments.
Have a great day,
Evelyn